Creating Cohesive Look
Knowing that my client had just moved in to their new house from another state, I wanted to help them settle in as quickly as possible and make them feel at home. They had hired me to furnish their living room, dining room, front hall sitting room, breakfast area and to select counter stools for the kitchen island.
Visual Story Of Client's Personal Style
By providing my client with design concepts that they can visualize in their own space, gave them a lot of confidence about how the different spaces will look at the end of the project. One of the reasons we could successfully pull off this project so quickly was how decisive my client and her husband were in approving design proposals. While there were back and forth exchanges of communication, it took very little revisions, they told me that they just loved the designs and recommendations that I had showed them.
Listening To Clients' Needs
Conceptual Design: Breakfast Area
I think it is very critical for an Interior Designer to be able to listen to their clients needs because ultimately it's their home and place of sanctuary. I always like to start with the question of how they want to feel in each of their spaces when I do the first walk-through consultation with them. For this client, she wanted the rooms to feel comfortable, sophisticated, and elevated. The fact that she loves colors and has a vibrant personality, we knew we wanted to bring in colors to create positive energy and vibe but in a grown up sophisticated way that reflects them.
Mixing Old And New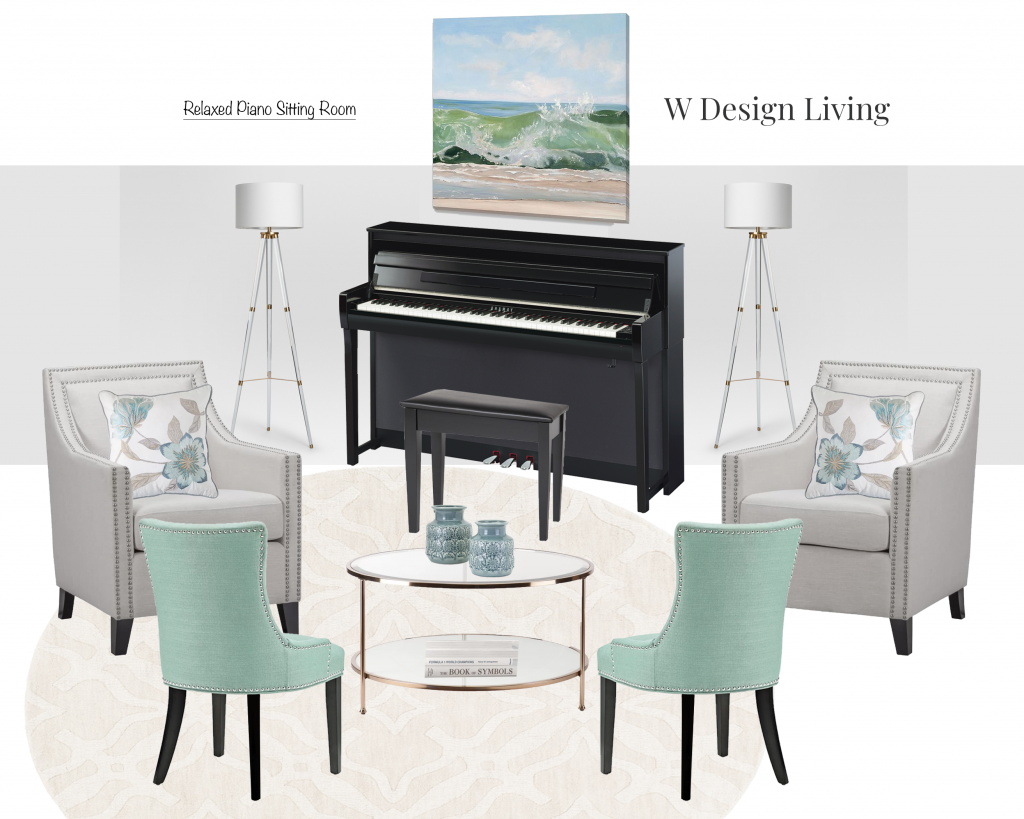 Conceptual Design: Front Hall Sitting Room
Like with all interior design projects, there are always constraints. As a creative who likes to solve problems, working through constraints whether they are design challenges or budget or timeline, is really part of the fun. When client has existing pieces of furnitures they would like to keep because those things mean something important to them like an heirloom, I enjoy integrating them in the design mixing old and new to create a unique one-of-a-kind look.
Guiding Without Pushing
While collaborating to decide on furnitures, I give my clients options. We arrived at this dining room designs from 3 different dining tables and about 10 dining chair choices. Client ultimately decide on this dining table and chairs. Instead of standard gray color for dining chairs, they trusted me and chose this laguna minty green, which added a welcoming energy and statement to the formal dining room.
Sourcing For Expensive Look On A Budget
Conceptual Design: Living Room
When it comes to sourcing, I carefully select and handpick items that meets not just design but also quality and lifestyle (how the clients live). With some great eyes, selecting furnitures that gives a designer look doesn't always mean they have to be expensive. I especially enjoy finding pieces that look high-end at affordable prices. And then when choosing sofa, where comfort is the most important factor, I encourage my clients to visit the furniture store to test out what I've picked out for them before making orders. I want to ensure that the seating is comfortable to them.
Alright, now that this post is rather long, I will stop here. Let me know if you had any questions or comments!