Of all the spaces in the house that we renovated, the entryway was the last of our project.
Here is how it used to look as soon as we entered the front door. It was a traditional 70's home, like a typical ranch style in the East Bay, and there was a glass cube wall with pole supported on the top.
The staircase was not completely safe for young kids because it had balusters that were too far apart and the handrail already felt wobbly when we bought the house. And having the dark carpeted stairs were just going to be difficult to maintain over time.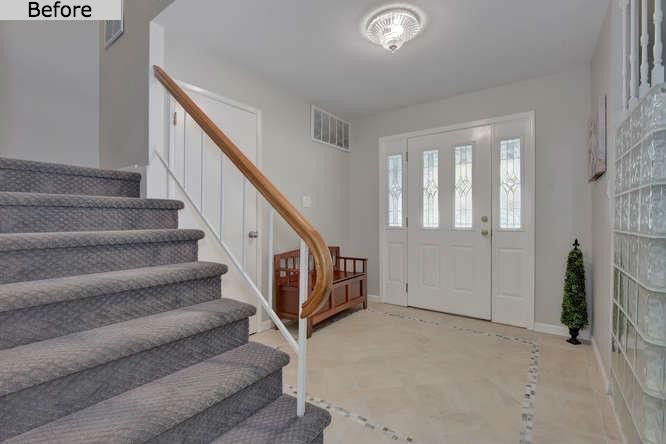 So, this is what we did. We took out all of the glass cubes and the poles above, replaced all of the carpet with hardwood floors, remove the old staircase and ordered a custom design made with steel and like majority of the floors on this first level, we replaced the old floors with porcelain tiles.
As we were going for a more modern look, we ordered our front door with specific design in mind. Wooden door is preferred, so we looked up distributors in the local area that provide solid wood options with reasonable price. Let me tell you, doors can get really expensive, little did I know before.
Lucky for us, we found this company Rogue Valley Door that made designs exactly the way we wanted. This door was made in the USA of douglas fir wood. The wood grain as well as the color is beautiful in person. To let a lot of natural lights come through, we ordered 2 sidelights and 4 panels door all using frosted glass which is opague but not transparent.
With a simple updated ceiling light that is flush-mount, this drum shade that's decorated with sparkle crystals all around the rim provide just the timeless look that we desired. After months of searching, we finally found and hung this beautiful round mirror on one side of the wall reflecting the art on the opposite wall. Now, this bright, warm and inviting entryway is one of my favorite views in the home.
What do you think of this before and after entrance? Would love to hear your thoughts!